Need to buy a present for your boss, a colleague or a client? These three rules will make corporate gift giving a lot easier.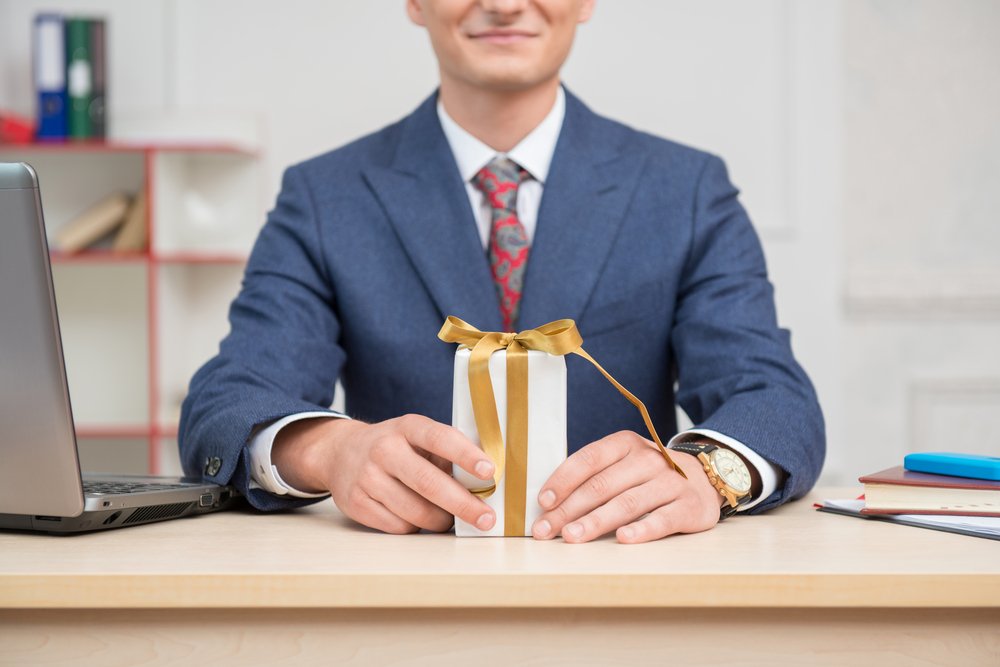 Choose Something Appropriate
The way you act, dress and speak in the office is likely at least a little bit different from how you behave at home, and gifts should be no different. It's important to adhere to accepted standards of professional decorum when giving gifts. This doesn't mean the gifts have to be formal and related to the profession, though. Bottles of wine with accompanying wine glasses are a popular choice for corporate gifts, for example. However, it's important to really understand the context of your gift before you choose. Don't give a gift like wine or liquor—even a really expensive bottle of aged scotch—to a client or employee who doesn't drink alcohol. If your relationship with an associate is particularly formal and you don't discuss your personal lives or interests at all, a gift like wine may seem too personal and informal. A more professional gift like a nice pen may be a better choice in that case.
Don't Leave Anyone Out
Giving personalized gifts can be a really nice way of making the recipient feel special. It's a great way to show business associates that you care. However, there are some situations in which a personalized gift may not go over well. If you're going to be giving personalized gifts to employees, make sure everyone's included. Employees that don't get gifts will feel slighted and may worry that their job is in jeopardy. Don't give a personalized gift to just a few employees while leaving everyone else out, unless that personalized gift is a reward for a specific achievement. And if you're going to give personalized gifts to the whole office, make sure every single name is spelled correctly. If you have employees that use a nickname, such as going by Katie instead of Katherine, you may want to use that nickname on the gift to make it more friendly.
Think About Ethical Limits
Some professionals are either officially or informally compelled to reject certain gifts from their clients. These ethical rules relating to gifts usually focus on cost; for example, an accountant may be restricted from receiving gifts worth more than $100 from a single client. Knowing what the parameters are and sticking with them will help make sure your gift is a success. If you aren't sure whether any of the people you want to give gifts to are subject to these kinds of ethical limits for gift giving, ask someone in your office if they're familiar with the situation. You can even approach the intended gift recipient and ask if it would be OK to send him or her a gift. This can seem a bit gauche, but it's better than the etiquette fallout of giving a gift the recipient can't ethically keep.
No matter what specific situation you're in, corporate gifts can be a great way of expressing admiration, respect, commitment and gratitude to vendors, colleagues, superiors, clients and others. Following these suggestions will help make each gift a success.