Planning to throw a surprise baby shower for your best friend but have no idea where to start? If yes, then look no further because the celebrity baby shower themes outlined below are some of the best there has ever been in the history of baby showers.
At this point, you are probably worried about blowing a hole in your bank account, but you don't have to be. All you need to do is take the main theme, and be creative with it so that it can fit your current budget. You can do this by personalizing whatever is needed to suit the bigger picture.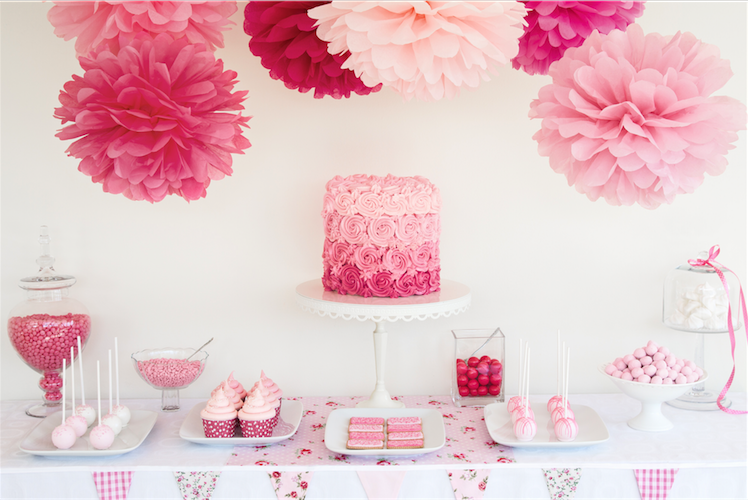 Safari Themed Baby Shower
Is your best friend a big animal lover? Has she gone for wild safaris more times than you can recall, or is it something that's on the top of her bucket list? If yes, then look no further for inspiration than a Candice Swanepoel Safari themed baby shower. The Victoria Secret's model decided to pay homage to her South African roots by making her baby shower a "wild affair."
The event was characterized by stuffed giraffes, elephants, lions, and a string of other wild animals you only come across during an African Safari. The décor was also on point. The table featured beautiful flowers in all soft Mother Nature hues such as peach, purple, and green.
On the confectionary table, lay an adorable cake with designs of world animals, while the cupcakes surrounding it were made into cute rhino, zebras and other wild animal shapes. Above the table was a big banner with the name "Anaca," which means bird and which was chosen by Candice and her husband as the child's name.
Pink Party-Khloe Kardashian
The Kardashians are famed for going big on everything and Khloe's pink party for baby True was no exception.
The star-studded baby shower featured a huge pink flower wall, a giant elephant topiary, and a pink-themed floral ceiling. The table was also set with cute pink plates while an endless cloud of balloons covered the floor. As you would expect, all the guests donned pink, and Khloe stole the show with her gorgeous, shimmering pink dress.
Retro-Themed- Serena Williams
Want to throw it back for your pal? If yes, then you should check out Serena William's retro-themed baby shower. The 50s-themed event featured a long string of celebrities from Ciara to Kelly Rowland who all rocked cute retro outfits such as poodle skirts, which remind you of the hippie's era. It featured a red vintage car and took place in a 50s restaurant-themed space complete with red chairs and tables that remind you of a scene in James Dean's "Rebel without a cause movie." This baby shower theme is honestly one of the most unique baby shower ideas there is out there, and the options when it comes to creating one for your best friend are endless.
African Baby Shower
Just when we were thought she would leave it at having the most liked maternity shoot photo on Instagram, Beyonce went all out to celebrate the impending arrival of her twins in an event Carter's Push Party. The event was African themed and featured bold prints all over. For instance, on the table, lay African lanterns and wooden elephants. The carpets and the walls had African-fabrics, with animal prints such as zebra and leopard prints. She rocked a patterned skirt and bralette, complete with an African head wrap. On her bump was an intricate henna tattoo.
The baby shower themes above are incredibly unique. What's best about them is that you can easily steal some ideas and incorporate them into the surprise baby shower you are planning. For instance, if you want a pink-party, you can do the same as Khloe Kardashian but go easy on the decorations based on your budget. Also, check out SGWedding Favors for unique baby shower decorations to complete any idea you have in mind.