The colors you choose for your wedding and reception sends non-verbal messages to your guests about the mood and tone you want to create. Moreover, the colors represent your style, character, and hopes for the future. While an all-White wedding represents innocence and perfection, the reception is the perfect opportunity to offset it with a few unexpected bold and beautiful shades.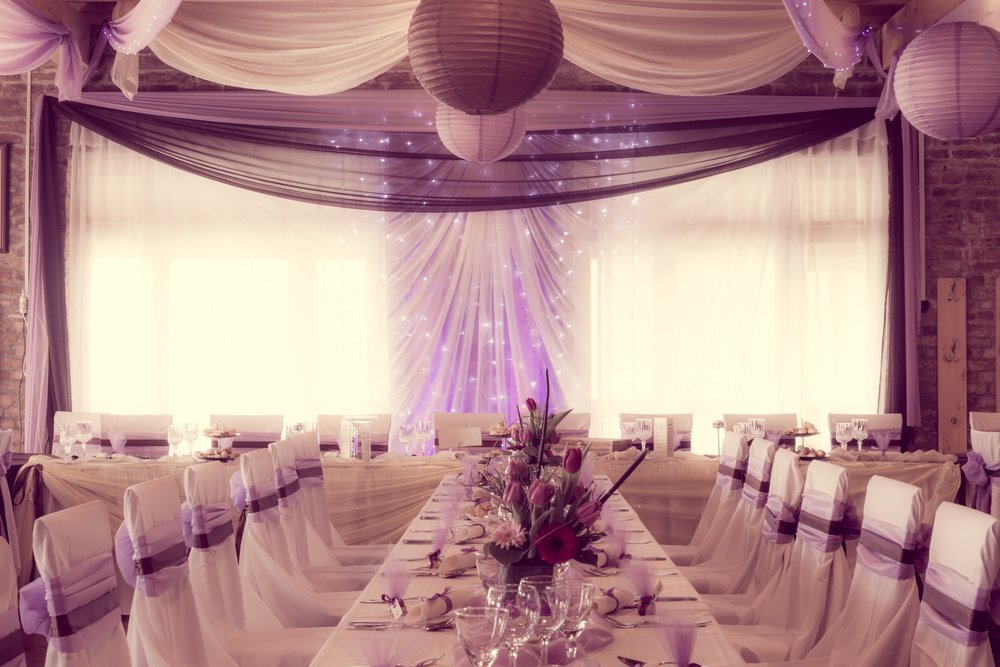 Tip 1: Pair bolder colors with neutrals to add a balance of sophistication and class.
Mini Favor Vases, which are available in Blue Breeze, Glacier Blue or Lavender Mist, offer value to receptions as the colors blend a bit of masculine and feminine appeal.
Blue represents loyalty, and lavender adds elegance, so use the small, porcelain vases as centerpieces by adding in bold, vibrant flower arrangements. You can also use them as name place holders.
Add a blend of colorful flowers to the vases for practical favors.
Use our Blown Glass Globes as décor by adding tropical flowers like amaryllis, begonias, or hibiscus.
Tip 2: Adding a touch of red to offset White's purity gives a sense of passion, energy, and strength.
Our Red and White Guestbook blends the color schemes naturally. The satin and flower design also add a bit of fearless savoir vivre (knowledge of life).
From the reception to keepsake home décor, the Fairytale Rose Petal Signing Canvas is a way to let others know you walk an untraditional path in life.
A perfect favor that speaks to the strength of family is our Ruby Red Elephant Candle Holders. The striking raised trunk represents luck while the gold color reminds your guests about tradition. Adding the Gold Double Happiness Favor Box is a nice blend of color schemes for the favor table.
Tip 3: Blend blue and green to signify peace, intellect, health, and harmony.
The Blue and Green Pen Set perfectly offset neutrals like white or silver without overpowering them.
The Peacock Feather Pen Set symbolize spirituality, positivity, and vision. It also sends a message that the marriage is sacred and pure.
Peacock DIY Favor Boxes also combine the colors for creative gift ideas.
Tip 4: Pretty in Pink adds a bit of romance and playfulness to a reception.
The Pink Rose Guest Book and Pen is the perfect addition to any event. The pink infusion with the lace and beads adds personal style and feminine appeal.
The Floral Bridesmaid Tote Bag, Floral Maid of Honor Tote Bag, or the Floral Bridesmaid or Maid of Honor Survival Bag are must-haves for the reception because it packs all the essentials for ladies to freshen up makeup or hair before the wedding and reception begin. The pink floral decoration would blend well with wedding palettes of white or floral patterns. Fill each of them with Embroidered Towel Favors, Cookie Compacts, or Romantic Rose Soap Favors if you want to make your wedding party feel special.
Our Vintage Eiffel Jewellery Box in Butterfly Pink is just the right gift for your favor table. The color also blends with your chosen color palette as well.
Pink Jute Bags are creative ways to give favors to your guests. Mix and match your favors and let guests choose them like grab bags to find out the surprises they hold.
Tip 5: A bit of purple infers romance and grandeur which gives off an aristocratic ambiance.
The Radiant Flower Guestbook and Pen Set will enhance your reception by blending deep purple with lighter shades of flowers on satin.
Pair purple with our Wonderfully White collection of favors like our Happily Ever After Frames to blend warm and cool colors.
The Succulent Pyramid DIY Box with the Allerines Tea Pearfect Oolong or Allerines Tea African Sunrise offers a stunning favor idea to any occasion.
SG Wedding Favors offer a variety of décor and favors for any wedding or reception. If you have not yet decided on your colors, you can visit our website for exclusive themes and color schemes if you need a bit of inspiration.