Among the most important details about your wedding are the photos taken that day. That's why choosing a photographer shouldn't be an afterthought. It should be something you prioritize. Discussing the types of shots, you want to have with the professional ensures that you'll capture your day in a truly memorable and amazing way.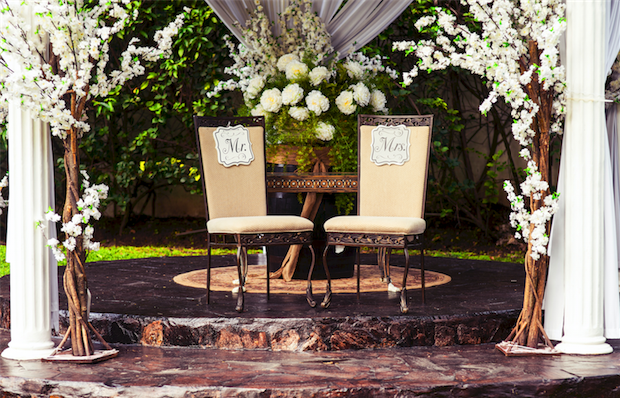 Think Outside the Box Ideas for Dynamic Wedding Pictures
If you want to have outstanding wedding photos, you'll want to think outside the box. Taking pictures with your bouquet and rings is normal. You'll want to find some other types of props to use to create a more dynamic image. You and your soon-to-be spouse can discuss which direction you want to take your photos in as you won't get a chance to have them retaken in that setting.
Here are five easy-to-implement prop ideas for your wedding day photos:
Silhouette Chandelier. Hung from above, the decoration gives every setting a luxurious makeover. It can be a lot of fun to explore how it looks in indoor and outdoor venues, too. The chandelier matches your formal attire and makes you feel like royalty. Its dark color helps it photograph well.
Personalized Champagne Glasses. Great for giving your photos some extra personal touches, the custom glasses have your choice of message on it. It can be you and your significant other's initials, last name, or date of celebration. Whatever you choose to have inscribed on the glasses is perfect for the photos you'll take on your special day.
Couple Coffee Mugs. It's a cute way of showing your newly married status to the world. If you love hot beverages, make them a part of your photos. Coffee with your honey will be something you grow accustomed to having daily as a married couple.
Bride and Groom Chair Signs. They can be used in your photos and during your reception as placeholders.

The signs

are very versatile. You can hold them if you don't want to use chairs in your photographs.
Parasols. The subjects in the pictures can hold them. They can be hung above or placed behind you for a pop of color. Paper parasols come in a wide variety of colors and materials, too. You'll quickly find ones that meet your needs when shopping our website for ideas.
Props can significantly enhance the quality of your photos. They allow your personality, interests, and love story to shine through. Before shooting your wedding day photos, make sure to meet with your photographer and go over a list of ideas that you've brainstormed. That way, you're able to get all the wonderful shots you were hoping to get before everyone leaves the venue that day.
Where to Buy the Best Props for Your Wedding Photos
Take a look around the SG Wedding Favors storefront for additional inspiration. The products that we sell are incredibly versatile. You can personalize many of them before your photoshoot. It's a unique and memorable way to commemorate the occasion.