Crystals have been used for thousands of years ceremonially, so it is of little wonder as to why some couples have long opted for a clearly crystal wedding theme. Their shimmery elegance has now become popular décor for a wide range of reception themes because of their chic and luxurious aesthetics. If you have not thought about this wedding theme yet, here are nine lavish clearly crystal décor reception ideas that will add lots of beauty and bling.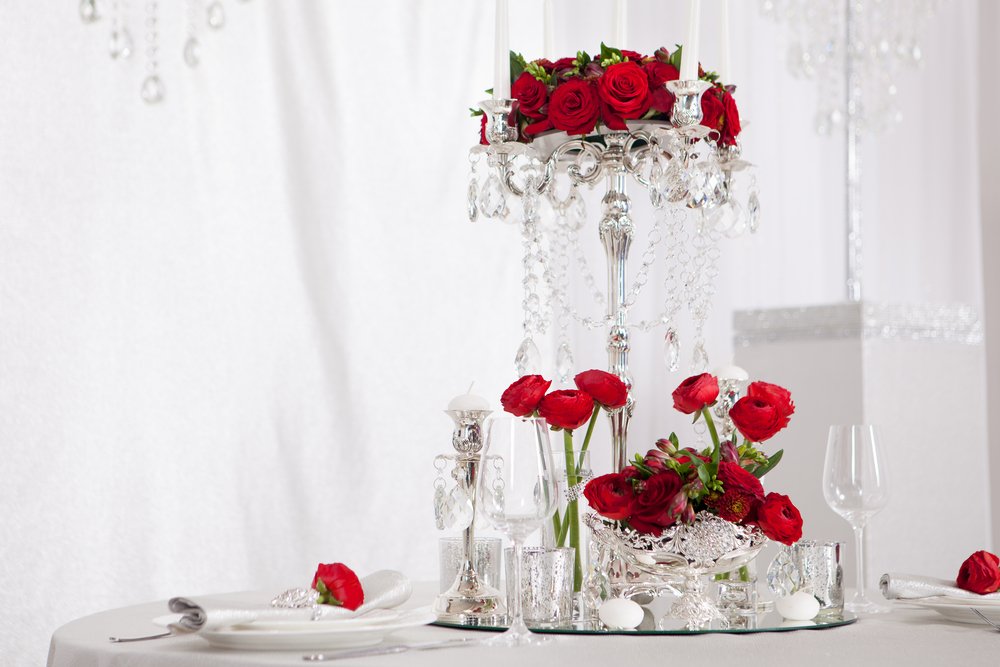 1. Crystal Tableware Accents
Your tableware is a small part of a bigger picture, but to your guests, it will be a major part of their experience. Tables adorned with white wedding flora like fresh gardenia, hydrangea, lisianthus, and oriental lilies set in crystal vases are just the touch to bring out the glow of the stone as a centerpiece. Adding in crystal ball nameplates, candle holders, and glassware will add elegance and appeal to those whose names are attached.
2. Crystal-Draped Arches
Arches are a must-have this year, so why not drape crystal beads along its border. Whether it catches the sun or moonlight, it creates a romantic mood for the guests.
3. Chrystal Candelabra
Nothing says high-end wedding like crystal candelabras. They also come in any size or shape, so they fit into any décor or theme style. It will also serve as the focal point of an event that brings together all of the other crystal influence you choose to include.
4. Crystal Cake Stand
While the cake will be a divine surprise for guests, you can wow them even more by having a crystal cake stand that continues to build upon your décor theme.
5. Swarovski Crystalline Toasting Flutes
A most popular product at SG Wedding Favors is our Swarovski Crystalline Toasting Flutes. They are ideal for wedding engagement gifts or for the bride and groom to use during a wedding reception. They are also extravagant keepsakes that are long-lasting.
6. Crystal Candle Holders
Beautifully arranged candles naturally light up an event. Set within crystal candle holders, they set the scene for a truly magnificent wedding walk or reception entrance.
7. Crystal Columns Or Pedestals For Décor
Columns and pedestals add charm and glamour to a wedding. Not only can you include flowers, but you can add décor and candles along the inner and outer areas of the wedding ceremony and reception. It also blends in well with crystal décor.
8. Crystal Beaded LED Lighted Bouquet
LED crystal lighting is a great addition to evening weddings. They are nice on columns or pedestals. You can also use them outside at tent weddings so your guests walk safely.
9. Crystal Favors For Guests
Favors bring together the theme for guests, so it makes the greatest sense to provide SG Wedding Favor favorites like crystal perfume bottles, crystal bow bear, Swarovski crystalline pens, or luggage tags with Swarovski infused elements.
Which are the loveliest crystals at weddings? Here are our favorites: apophyllite stands for spirituality, clear quartz for energy, nirvana quartz for destiny, or selenite for mental clarity. You will find a variety of beautiful Clearly Crystal themed décor and favors at SG Wedding Favors.