Choosing a color for your big day can be a lot of fun. But it is also one more decision to have to make! Don't let yourself get overwhelmed. Let's take a look at cultural meanings behind some popular colors, and some ideas of how to put them to use.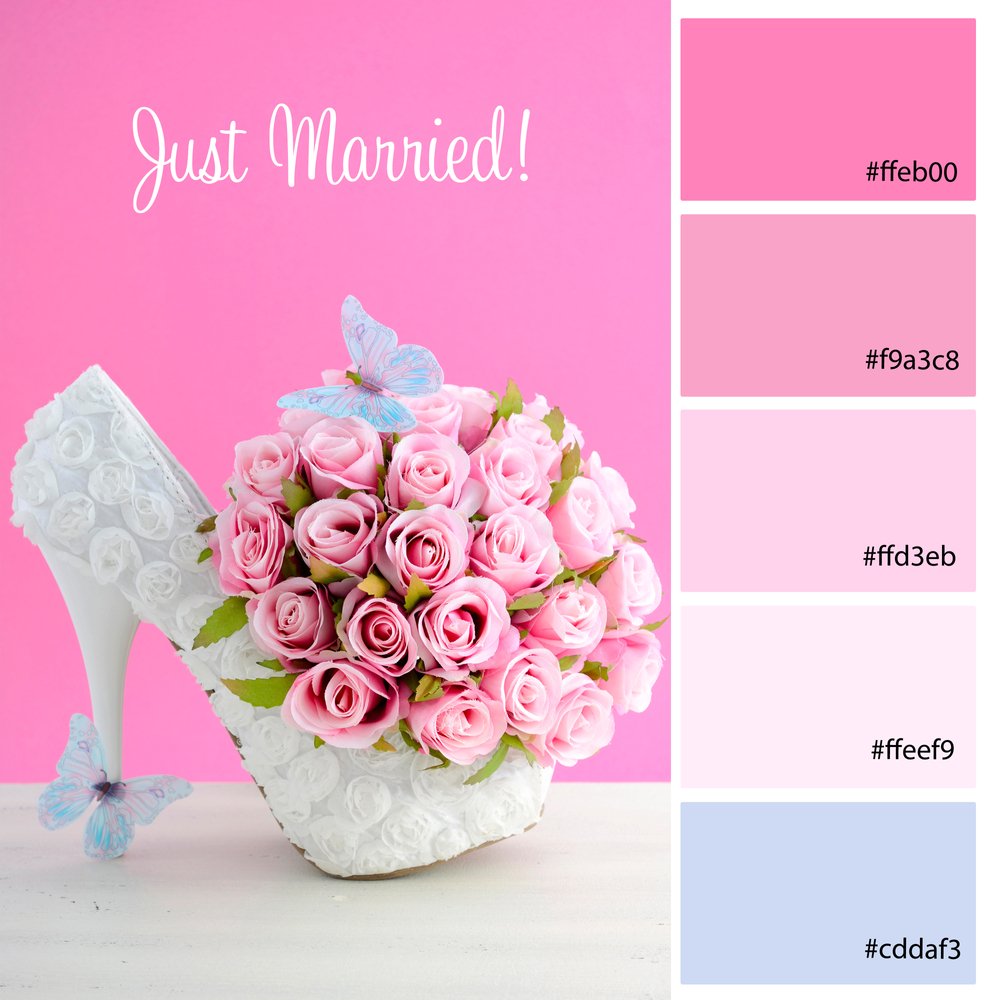 Red is a natural color when thinking of love. Passion, romance, and excitement are all brought to mind when surrounded by red. In China, the color is widely used in marriage ceremonies signifying good luck, prosperity, and joy. Brides in China often wear red as a color for one of their dress choices.
Blue is the color of faithfulness, purity, and modesty. Dark blue or navy can be a sophisticated accent, especially for a traditional or nautical-themed reception. Using sky blue as the main color would be a whimsical, light-hearted approach to the party, bringing to mind open spaces and bright days.
An aqua, teal, or blue-green is a popular color choice, especially when the theme embraces other colors reminiscent of the sea. Having attendants wear different shades of blues, greens, and purples, mixed with similarly shaded decor can create a calming, underwater kind of mood.
Purple is a stately color, symbolizing wealth and status. It used to be the rarest and most costly dye to secure, reserving it for the rich and the royal.
Lilac or violet can make a softer impression, working well with a daytime reception, especially in the spring. With so many choices, experiment with floral displays combining many different kinds of blossoms. Imagine purple peonies, violets, irises, and lilacs spilling over the tabletops and aisles.
In the chakras, green is the color of compassion, of the heart chakra. In the same spirit, it is a color that evokes a love of nature.
Going for a green wedding theme can be tricky, with most opting for sage or sea foam instead of a forest or hunter green. These hues can be used successfully, though. The trick is to put the focus on natural colors. A great idea for an outdoor wedding on a farm or at a country club, use white or cream as your main color and use a standout green as an accent. Scatter mini topiaries, ivy strands, and succulents all over as decor that your guests can also take home as favors.
The most opulent choice, it is hard to think of a more elegant effect than walking into a room of shining gold decor. Mixed with white for a clean, bright look, or paired with black for a darkly elegant evening; gold is arresting, affecting, and attractive.
As the color of the world's most precious metal, it stands for wealth and success.
Gold wedding dresses have been having a moment for the past couple of years. From short cocktail dresses to puffy ball gowns to gold lamé jumpsuits, brides have been choosing the color as a fun departure from traditional white.
Once you do pick your colors, the rest of the decor will start to fall into place. Don't forget to look for help if you need it, but ultimately it is the decision of you and your spouse to be.