Gift giving is always essentially the same, but there are some special rules to consider when you're shopping for someone with whom you share a business rather than personal connection. Use these strategies to ensure success when you give gifts to colleagues, clients and superiors in the workplace.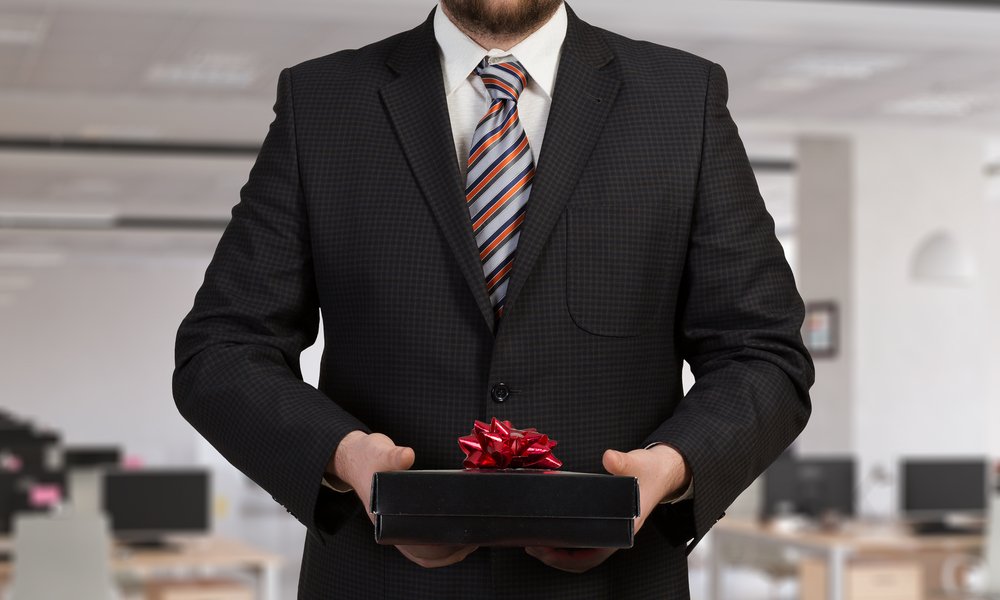 Pay Attention to Personalized Needs
If you're giving a gift on an individual basis rather than to an entire department or business team, you'll want your gift to reflect personal needs and interests. This personalized item should fall within the boundaries of good etiquette for corporate gift giving, meaning that it shouldn't be too personal, but it is smart to pay attention to what the person you're shopping for actually likes.
For example, a colleague who prefers taking notes by hand to using a computer may appreciate a personalized pen. Noticing little details like that makes gift giving easier, so try not to pick out a gift without some idea of what the recipient might like. Even if it just means looking at the items on an individual's desk or chatting about what he or she did this past weekend, you'll want some personal information to use as inspiration for your gift.
Give Something Useful
Thoughtful, useful gifts are always the best kind to get, especially when they're coming from someone you know through work. Even after you've considered what the recipient might find personally appealing, make sure he or she will also find the gift useful. Because you probably don't know a whole lot about the recipient's personal life, it's best to stick with things that can be useful in a professional context.
"Useful" doesn't necessarily mean "boring," though. You can pick something that's both practical and decorative. A little embellishment and luxury never hurt anyone, so don't be afraid to pick out something with a little bit of extra flair—it it makes sense for the person you're shopping for, of course.
Choose Your Moment Wisely
There are some situations in which giving a gift can be awkward at best and unethical at worst. Giving your boss a gift before an annual performance review, for example, can easily read as an attempt to suck up to get better feedback. Timing is key when giving a professional gift. For example, if you want to send your clients a holiday gift consisting of custom logo keychains and a tin of cookies from your favorite local bakery, make sure you aren't sending this gift to a client who is currently considering whether to sign a new contract with your company. Even if the gift coincides with the holidays, the recipient may feel pressured to sign a new contract.
The gifts you give in a professional context should never appear to be anything but a genuine gesture of appreciation and respect. In the corporate world, timing has a lot to do with perception. If a gift-giving occasion happens to line up with some sort of event that would make the gift seem like a bribe, wait for a more appropriate opportunity.
Check out our Corporate Gifts section today to pick out something amazing for everyone on your professional gift list.