Butterflies are beautiful. They're all about transformation. When a caterpillar becomes a butterfly, it can't wait to show off its new self. It flitters from one flower to the next, drinking nectar and spreading its beautiful wings.
There is a reason why the symbol of a butterfly is perfect for weddings. Not only are you breaking out of your cocoon of singleness, but you're embracing a new life as a married person. You can hardly contain your excitement while planning your big day. That's why you should think about how to incorporate butterflies into your ceremony and reception because of the meaning behind them.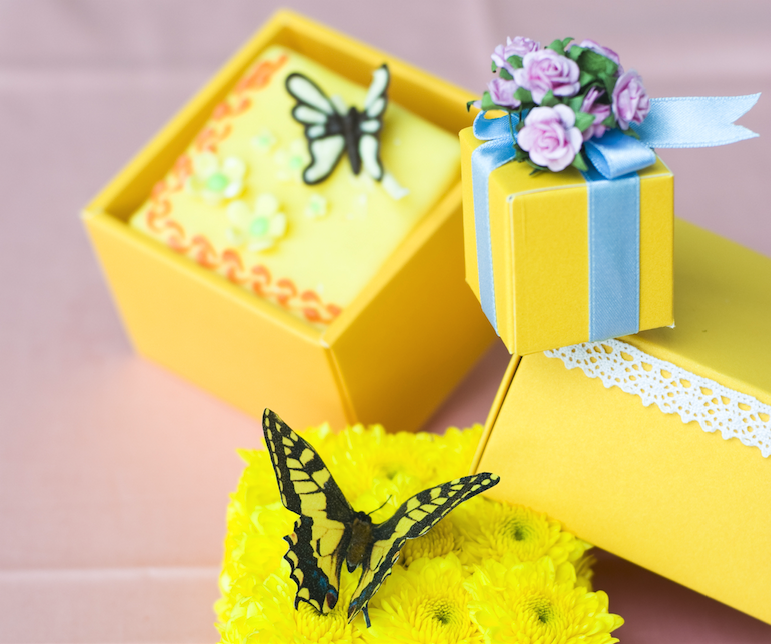 Your Wedding Plans Simplified
You can simplify your wedding plans by focusing on one theme. Everything else gets planned around it. For example, if you love a particular type of butterfly, you can use its colors to inspire your wedding colors. The color combinations found in nature are nothing less than spectacular and perfect for creating your desired mood for the wedding.
Here are some other suggestions for making your butterfly-themed wedding outstanding:
Invitations with Butterflies on Them. Find a design that you like and have them personalized with your information on them. It's the very first thing you should do after setting a date and booking your venue. Giving your guests plenty of time to RSVP is imperative. It ensures that you're able to have as many people in attendance as possible because you've given them a chance to prepare to travel to your event.
With Elegant Butterfly Favor Boxes. The item can be considered table décor and a gift for your guests to take home with them. The boxes are very delicate and beautiful. They can be filled with small trinkets, candy, or nuts and given to your guests. The gorgeous white boxes make a bold statement whenever you look at them.
Butterfly Embellishments on Your Dress and Tux. Instead of flowers, see if you can have a dress made that has butterflies. You can also have the corsages and boutonnieres made with butterflies on them. The approach works best with fake flowers, but if you prefer fresh ones, you'll easily add them to the wrist and lapel of a jacket.
Butterflies on the Cake. Edible gum paste or fondant butterflies not only look beautiful, but they taste great, too. The only downfall to purchasing such a beautiful cake is cutting into it! Take lots of pictures before you do so that you always have the memory of your perfect butterfly wedding fresh in your mind.
Add butterflies however you'd like to display them. You can use lights with butterfly covers on them, play songs that have a butterfly in the title or lyrics, and even hand out wildflower seed packs as a way to encourage other people to care for the butterflies near their homes. You've got many options to choose from, making it easy to plan a theme wedding such as yours.
Plan Early So Everything That You Order Arrives on Time
A butterfly-themed wedding takes planning to pull off. There are decorations and favors to purchase and wit to have delivered. There are many small details to include in the festivities, too, making it best to start planning the event just as soon as possible. That way, you're able to have the wedding of your dreams without delay. Everything will be in place to ensure that you and your soon-to-be-spouse are happy with the outcome of all of your planning.