The holidays are quickly approaching which means that employees are dusting off the corporate gift acceptance policy in anticipation of holiday parties, thank-you dinners, and corporate gifts. If it is your job to buy corporate gifts for clients, you will want to invest in personalized gifts that show your appreciation. Corporate gift ideas for employees often relate to their job description which can also be a hassle in finding a variety of items that cover each department. The corporate gift items that SG Wedding Favors have on our website will allow you to impress both your clients and employees. Here is our official guide to holiday corporate gift ideas 2018.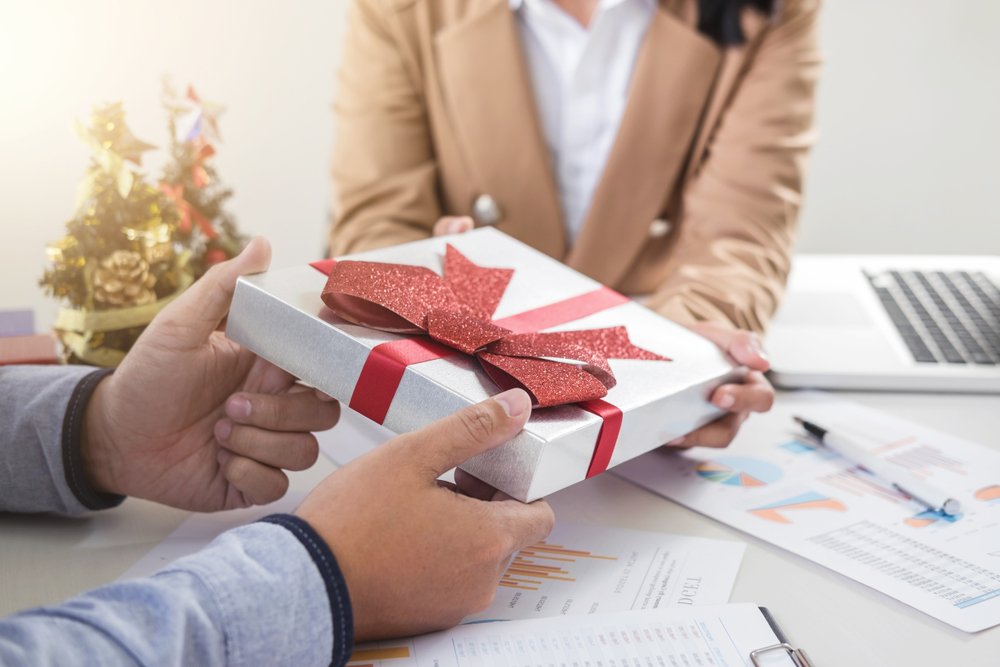 Corporate Gifts For Clients
Landing corporate clients is only half the battle. Once you begin a business relationship, you also need to go the distance to treat them well throughout the year. If you want to impress them during the holidays, make sure you send them a thank-you gift to show your appreciation and dedication to your continued business relationship. Here are a few gifts we think they will love.
This personalized gift is the perfect way to toast your continued business plans for the new year. Your ability to add script allows you to customize your message with well wishes or a business-friendly reminder of your continued success and dedication.
Ready to get a new client contract signed during the holidays? What better way to seal the deal than in style. A Swarovski Crystalline Lady Ballpoint Pen is beautifully made, stylish, and a perfect use for your clients in the corporate world.
Corporate Gifts For Employees
Most corporate gifts are given during the holiday season to show appreciation to employees by executives and department managers for hard work and team dedication. It allows corporate leaders to demonstrate strong leadership by recognizing the team's commitment to corporate success. It also allows company leaders to show appreciation which helps with retention rates.
Lavender And Gold Swirl Letter Opener
The Lavender And Gold Swirl Letter Opener is an ideal corporate gift for your administrative staff. It is also something they will use in their daily office tasks.
Personalized Multifunctional Pens
Did you know that personalized gifts with business jargon are tax deductible? It is why personalized multifunctional pens are a great way to say thank you. As you are adding a customized business message, it also makes your employees feel special and needed.
What better way to make your employees feel like your number one than by giving them an engraved Number 1 Keychain. This personalized gift and engravement will allow you to add a department name, employee stat, or accomplishment so that your employees know you see their achievements even when not officially recognized.
All of our corporate gifts Singapore are fully customizable. Simply fill out the order form at the links above, and we will get your corporate gifts ready. If you want more corporate gift ideas, visit our website or showroom to see any of our popular, stationary, and exquisite products.