Are you planning a spring wedding or party? Whether you need edible wedding favors or are planning a baby shower or corporate event, edible items make for perfect favors or personalized gift baskets. Bonne Maman and Allerines will provide a lasting impression on your guests. It is also the type of gifts you know your guests will use. Here are our favorite edible party favors.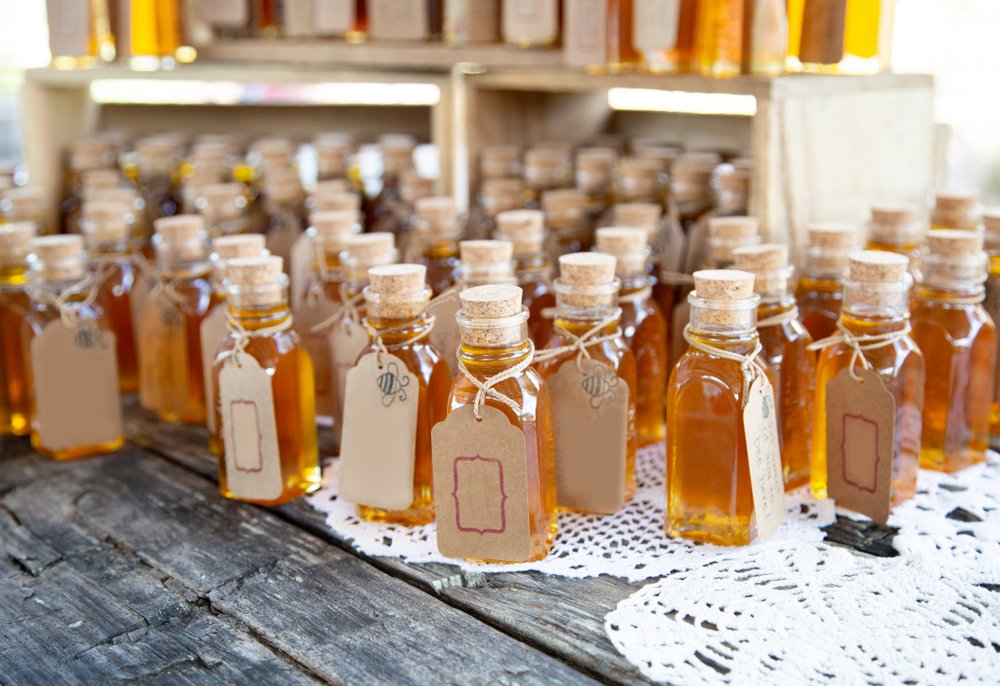 1. Bonne Maman Jam Favors
Bonne Maman Jams are quality-made and delicious. This European jam company sells flavors like apricot, blackcurrant, orange marmalade, raspberry, red cherry, strawberry, and wild blueberry. They make the perfect personalized gifts as well, so you can either add your label design or use one of several pre-designed labels we can provide you.
2. Bonne Maman Honey Favors
If you want more than just jam, Bonne Maman also makes honey favors as well. Honey is also a durable edible favor, so your guests will use it as a sugar substitute or in coffee or tea flavoring. You can also personalize the jars and bottle caps to fit any type of event.
3. Lotus Seed Snacks
If you want to add a touch of class and sophistication to your edible favors, try the Lotus Seed Snacks as they represent love and purity. You can add them to personalized gift boxes that match your theme and color scheme or use this snack for late-night cravings.
4. Allerines Tea Mango Tango
Mango Tango comes in a twenty-pack of pyramid sachets containing popular Japanese green sencha tea which is often used for medicinal purposes to fight off radicals, increase weight loss, boost the immune system, reduce cholesterol, raise energy, and improve oral mind and body health. It also has fluoride, so this tea decreases cavities and germs.
5. Allerines Tea Strawberry Shortcake
Strawberry Shortcake is a black Ceylon tea which packs plenty of benefits including heart, immunity, skin, and weight loss. Ceylon black tea also has flavonoids, antioxidants, and polyphenolic compounds which aid help the body fight off illness.
6. Allerines Tea Pearfect Oolong
Pearfect Oolong is a tea from Taiwan that also provides health benefits like a metabolism booster, stress reducer, reduces blood pressure, digestion, and antioxidant properties. It also is known for helping prevent diabetes, mental clarity, and skin and bone health.
7. Allerines Tea African Sunrise
African Sunrise is made of organic rooibos herbs which come from the Aspalathus linearis shrub in South Africa. Rooibos is a caffeine-free tea that has plenty of antioxidants which packs plenty of health benefits. It also has a reputation as a healthy heart booster. Experts also agree it reduces the risk of cancer and type II diabetes.
8. Allerines Tea Sakura
Sakura is a Japanese sencha green tea that eight-out-of-ten people drink there. Sakura is known for chronic disease prevention, cholesterol balance, blood pressure reducer, weight loss reduction, energy reducer, and cognitive ability enhancement.
SG Wedding Favors is the personalized gift company that provides quality gifts for any occasion. Visit us at https://www.sgweddingfavors.com/, our showroom, or Facebook.