If you spend any time on Instagram, you're likely aware of one of the hottest wedding trends involving cake. It's metallics, and one, in particular, stands out the most—gold! If you love glamour and glitz, you can easily include it as part of your wedding theme. You can make everything gold if you want because there is an abundance of décor and favor options waiting you at SG Wedding Favors.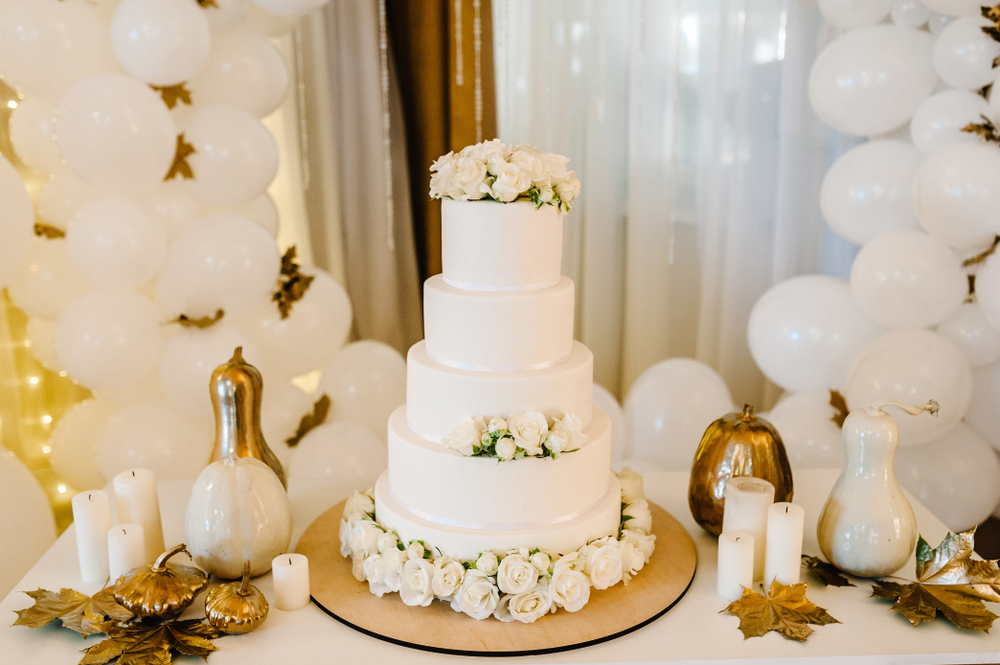 Classic Gold is One of Our Most Popular Wedding Themes Today
Our Classic Gold theme is brilliant and imaginative. If you want to bring something 'extra' to your special day, you've picked the perfect option. Gold can even be used in your wedding attire and on your invitations, too, for a completely luxurious look.
Let's explore some of the ways to make your gold-themed wedding come together beautifully.
Decorate Wedding Invitations with Gold Damask Tags and Stickers
Elevate the stationery you bought even more with the right embellishments. You'll find the custom tags and stickers easy-to-use and very elegant. They work well with invitations of all types and can even be used to label favor boxes if you have them leftover. The tags are perfect for tying onto bags of candy or cookies. Small details like this leave a big impression on your wedding guests.
With Gold-Trimmed Wedding Signs
A popular trend for weddings is signs that instruct guests to sit in certain places, place gifts in specific locations, and even take photos. Finding signs that tie into the theme is easy. A little gold around the edges catches people's eyes and gets them interested in reading the message awaiting them. Even children find it fun reading the signs and doing as they're asked to do.
A Gift of Marble and Gold Coasters
The combination of marble and gold is exquisite. Every guest appreciates getting a wedding favor that they'll use and enjoy for a long time. Drink coasters are the perfect answer for adults because everyone needs one. It's a beautiful yet practical gold gift to give. You can even provide miniature bottles of spirits for them to take home with their marble and gold coasters.
You'll Never Go Wrong with Gorgeous Gold
There is a lot to love about gold. Now that you have some ideas of ways to incorporate it into your wedding day, you can place an order for the decorations and favors that you want most for your ceremony and reception. You'll have everything you need to host a beautiful celebration with your family and friends. Best of all, each item that you picked out for your ceremony and reception says a lot about you, your personality, and the type of memories you're hoping to make.
Gold is gorgeous. It stands out and creates a perfect contrast between dark and lighter colors. It looks great on men and women and even as fondant on your wedding cake. If you're hoping to turn heads at your ceremony and reception, you will easily by making metallic gold a part of your celebration. It's rich without being over-the-top!