Especially with all of us fending in the kitchen for ourselves in the past year, cooking is in! And, more than that, fine dining, gourmet ingredients, and the latest Instagram-minded delicacies are all in too.
A great showcase for this trend is as a party theme. Unless you're doing a sit-down dinner party, the theme is well-suited for a daytime party among friends. the perfect lineup will include Buffet style eating, food-themed games or trivia, a cooking demonstration, and tons of delicious goodies as favors.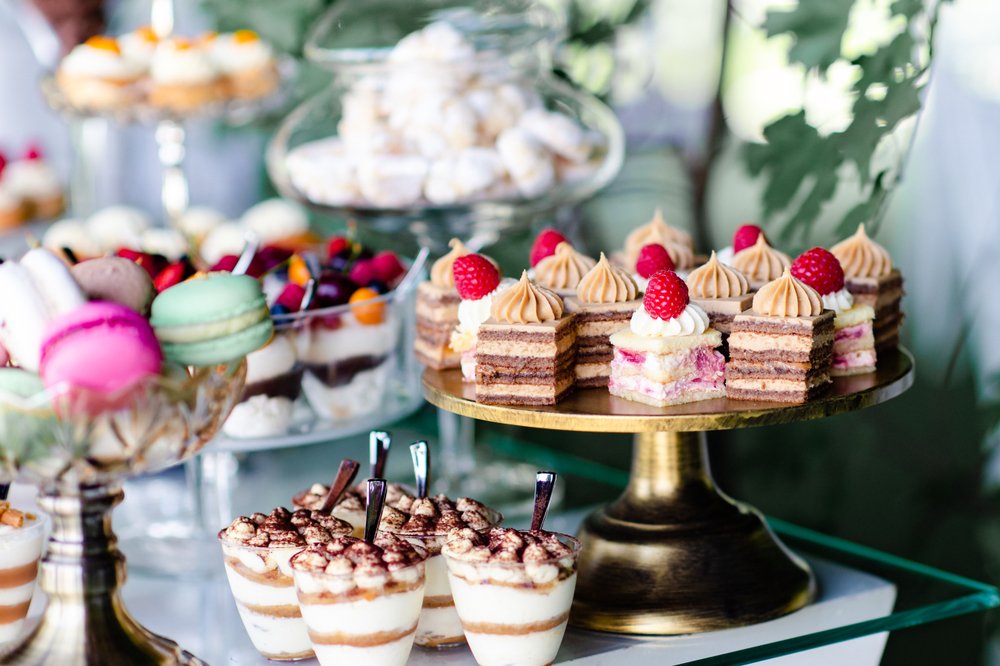 Chances are your mom or bride-to-be will be a fan of the kitchen arts but, and this is the beauty part, it doesn't matter if she is not. Everyone loves food, and thoughtful dishes and gorgeous presentations will wow a group that's come together to celebrate your guest of honor.
Menu
Start with a pass-around appetizer, or leave them around the room if not catered. Go for simple but impressive. Classics like caviar and blinis, shrimp cocktail, or bacon-wrapped figs should strike the right chord.
Have a knockout charcuterie board with interesting combinations like dried fruit, funky cheese, and duck sausages.
For the main buffet spread, get creative. Mix and match foods with diverse cuisines and styles. Try to keep a big range of flavors, spice levels, and serving temperatures. Get a good selection of salads going. Have sliced bread (naan, pitas, biscuits) and some lesser-known condiments (chutneys, Savoura, sriracha, etc.) within easy reach as well.
Desserts should make up their own separate buffet spread. Spice up your coffee and tea selection with some literal spices- serve milky chai or Turkish coffee with cardamom. Having a custard-like flan or panna cotta, a layer cake and a fruit tart should cover your bases for an impressive lasting impression.
Games and Activities
There are a lot of niche foodie games on the market. From gourmet term trivia to Murder mysteries are set at lavish restaurants, you can take your pick. Look for something meaningful to the lady of honor.
Another fun group activity is to bring in an instructor, or just a great cook you know, to do a demonstration. You could have them make a fantastic dressing for the salad or put together a side dish to be served later.
Favors
Make sure you send the group home with some gourmet gifts like fine jams, a tea ball with a fruity blend tea, or some interesting sauces or marinades.
Special Notes
Bridal shower parties should have a fun, girly cocktail. Either has a simple bar set up or make cocktails beforehand and serve them in pitchers.
Baby shower parties should take the mother-to-be's preferences in mind. If she would like to serve her guests alcohol, then you find a nice, light cocktail to offer. You should also ask her if any odors of food items are particularly bothersome to her.
Throwing a party for someone, especially someone with a big celebration coming in their lives, is a lot more fun than throwing one for yourself. Foodie parties are a great way to have a theme for someone who doesn't want a theme, per se. It's also very versatile -it can be as sophisticated or as silly as you want to make it.