We all have our own family histories, with twists and turns through the generations. Beyond being fun and exciting, globally-inspired traditions are a meaningful way to connect your two families and to share your roots with your guests
The best idea is to talk with your parents and older relatives about your roots. Ask them if they had any special activities at their event that you could try out. You may also consider the import of some different traditions from any nation, and see if there is something you can do that would highlight that idea for your own ceremony.
For example, in Germany, there is a tradition that involves the couple sawing a log together to show their solidarity and industriousness. Even if you are not of German descent, it could be fun to plant a seed together to show how your life together will blossom. So, don't feel limited by geography or history, let yourself be inspired and make your wedding your own.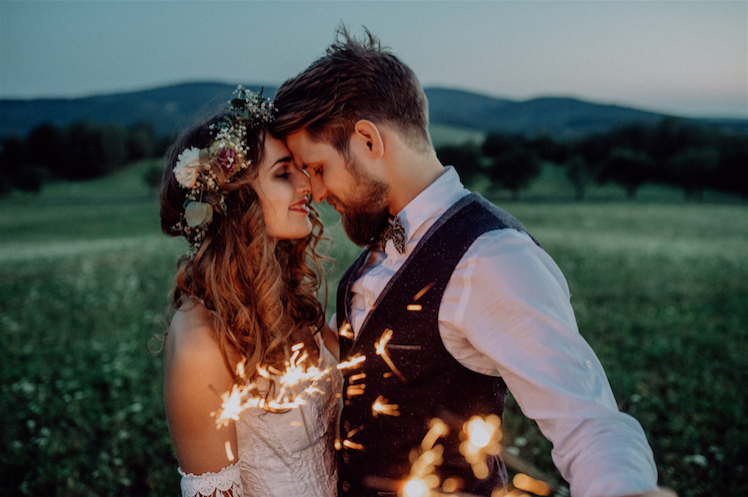 Here are other ideas of fun, interesting or meaningful traditions to help you get some ideas.
In Norway, Sweden, and other Nordic countries, it is customary for the bride to wear a crown. This signifies the importance of the day and helps the bride feel like a queen. The crowns vary in style and material, based on the interests and style of the bride.
In nordic churches, there are often crowns on display that has been donated in the memory of someone special to the congregation. These crowns may even be lent to brides who need one.
If you do go for the crown, remember that there could be a game that goes with it. At nordic weddings, the guests try to knock the crown off the bride with boisterous dancing. The first unmarried male to pick it up will be the next to marry, or so the story goes.
In both Brazil and Greece, brides write the name of their single female friends on the hem of their wedding gowns. This is supposed to help give them the luck to be wed in the near future. While the tradition is just for women, you can include all your unmarried friends.
And you don't have to write on your dress, either. You could find a way to include the names in a list in your bouquet, written on lanterns you release or on candles you will light during the party.
In Italy, on the night before the wedding, the bride may be surprised by her fiance and friends singing to her from the street. This surprise serenading can turn into a full party with all the guests celebrating the last night before the marriage. Maybe you could surprise your spouse with their favorite song? Or have a karaoke night together with your friends and family, to wish you both well through music.
In England, there is a tradition of singing to the newly married couple once they enter their shared home. This is a way to celebrate the new couple and wish them well as they start their new lives.