Wedding toasts are a lovely tradition that allows special guests to say something wonderful about the couple. Whether it's parents, members of the wedding party or lifelong family friends, couples love getting to hear from the important people in their lives on their big wedding day. What could be better than listening to these wonderful speeches? Drinking from a personalized toasting glass when the speech concludes.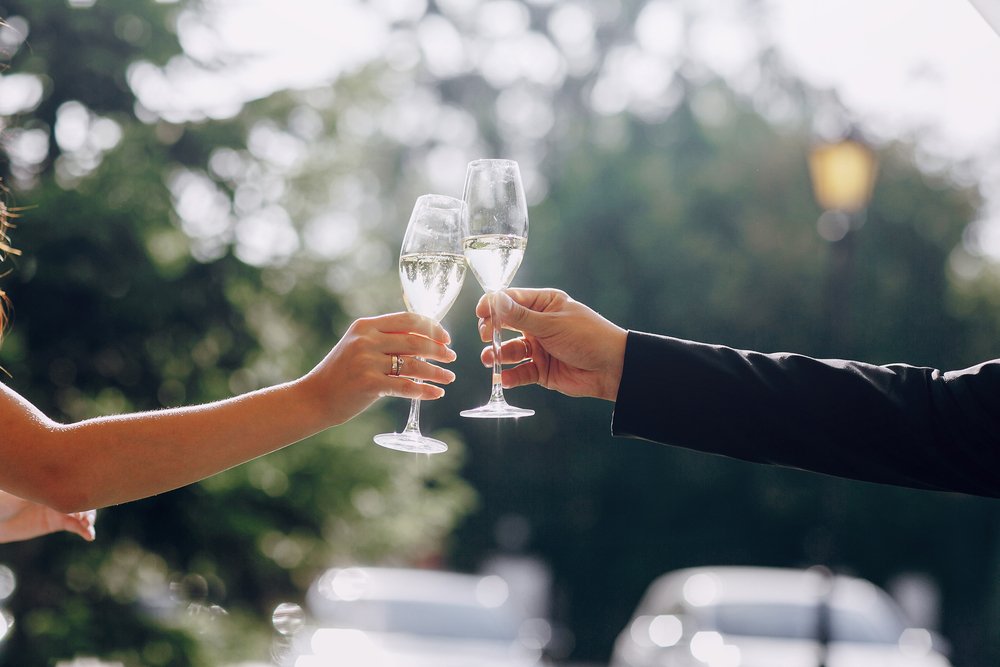 Speeches
Anyone wondering how to write a wedding toast is in luck: there's no single way to do it right. In fact, the best wedding toasts are the ones that are authentic, original and even off the cuff. That's not to say the speaker shouldn't prepare remarks—if you're the kind of person who doesn't improvise well, writing your toast ahead of time and even reading it off of cards or your phone is perfectly OK.
If you do choose to wing it, you should definitely think about what you're going to say before the wedding and have some talking points in mind. That way, your toast can really be meaningful and sweet for the happy couple. No matter which approach you choose to take, avoid cliches and definitely don't try to go edgy with your humor if there's any doubt it would be appreciated. Don't read a dictionary definition of the word "love," don't tell a humiliating story about that time the groom lost his trousers and definitely don't mention any of the happy couple's exes. Avoid these common mistakes and your wedding toast will be amazing.
Glassware
The newlyweds should get special glasses to commemorate the event. Engraved toasting flutes are the perfect option for the happy couple not only on the wedding day but for anniversaries and other meaningful occasions for the rest of their lives. Personalized toasting flutes are a wonderful pre-wedding gift from parents, best friends, siblings or other loved ones who want to make sure the two lovebirds have the best-possible experience on their wedding day. Listening to their favorite people say wonderful things during toast speeches will be made all the better when they sip from their personalized glasses.
Timing
Most of the time, toasts are given during the reception, often after dinner. However, if the reception involves a multi-course dinner, you might consider scheduling a toast between each course so there's a bit of structure. Either way, if you know you want specific people to speak, tell them when they'll go on so there's no surprises.
Some couples offer an open mic for anyone who wants to speak, and if you're considering this option, think it through carefully before actually going through with it. This is a risky move—any disgruntled relatives or socially clueless friends who want to air their thoughts will have the ability to do so. If there's no one like that invited to your wedding, though, it can be a nice gesture to leave the floor open for anyone with well wishes. Just be aware that your guests might not be as happy as you are to sit through a full hour of people telling you and your new spouse how great you are.