Asking friends to be a bridesmaid or groomsman is an honor, but it's also a responsibility. Bridal party gifts are a custom that shows your gratitude for the gesture of showing up and standing beside you on your big day. You don't have to get extravagant gifts for your attendants if your budget is small. A thoughtful, personal gift can be all you need to say "thank you" the right way.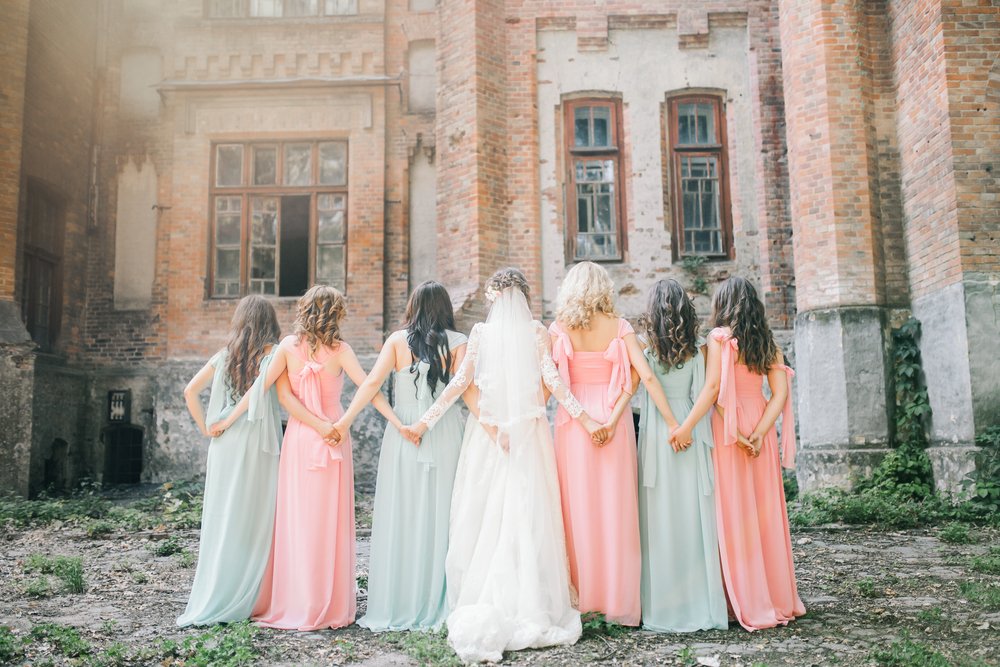 For Bridesmaids
It's best to give bridesmaids gifts that will come in handy after the wedding is over. Jewelry is a classic bridesmaid's gift, especially when given before the wedding so everyone in the group can match. When choosing jewelry, try to pick a style you know everyone will like. If your younger sister is sporty and tends to avoid super girly accessories, for example, you may not want to pick pink heart-shaped stud earrings. A nice silver or gold bracelet or a simple necklace with a pretty pendant may be the safest choice.
If you want to think outside the box, though, you can give your ladies a gift that reflects your shared interests. For example, if you love to drink wine with your girlfriends, you can get everyone in your bridal party a customized wine glass with a nice bottle of wine to enjoy after the wedding and remember the fun of your big day. You can take the customized gift idea a step further by getting custom-embroidered robes for each of your bridesmaids to wear while you're all getting ready together.
For Groomsmen
Groomsmen gifts can follow similar lines to those for bridesmaids; customized cufflinks are a good choice, but if your wedding is a little more informal, a set of whiskey glasses and a bottle of scotch may be the better choice. Men can be a bit harder to buy for, so don't overcomplicate the process of shopping for groomsmen gifts. If all the guys in the group like to golf, for example, you can get some custom-printed golf balls and tees, wrap them up nicely and consider the job done. Other functional gifts, like an engraved pocket knife or pocket watch, can be a nice gesture. As always, be sure to choose something the people you're buying for will actually want and use.
For Mixed-Gender Bridal Parties
These days, plenty of brides have men on their side and grooms have women on theirs. If you have friends of all genders in your bridal party, it may be easiest to just buy the same gift for everyone. Personalized gifts like engraved beer steins or even matching gender-neutral watches can be an easy way of taking care of the whole group in one go. You can also get a bit unconventional—your wedding isn't by the book anyway—and get your wedding party something like a subscription box or bacon-of-the-month club membership. If your budget is small, you can keep it simple; your friends will appreciate the gesture no matter what you get.