When considering the different venues available for getting married in, don't forget how convenient it is to get married in your own backyard. First and foremost, it's free! You don't need to pay for a beautiful place to say your vows. Next, you can hold your ceremony and reception in the same place. There is no need to travel from one location to the next wearing your wedding attire.
Finally, you can control the atmosphere, practice social distancing standards, and maintain a safe and enjoyable environment for everyone in attendance on your big day. If you have a beautiful yard or piece of property that you own, consider making it a part of your wedding story. We're going to show you how to take a place that you already know well and turn it into a gorgeous space for your family and friends to celebrate you.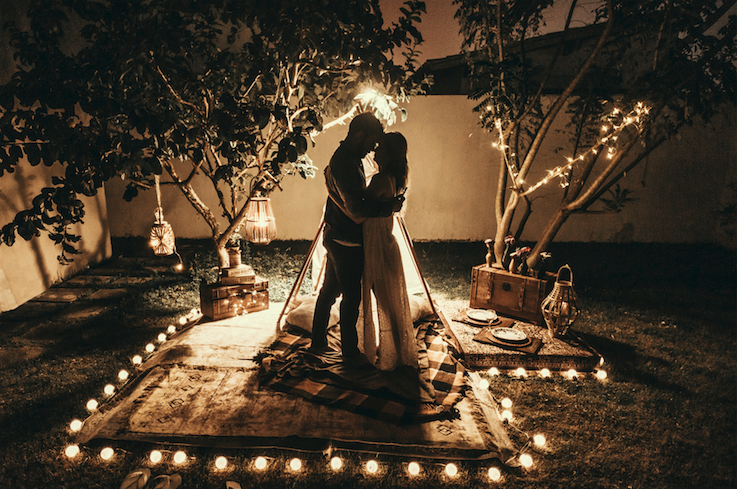 Steps to Take to Prepare for Your Wedding Day
Throwing a beautiful backyard wedding at your home takes planning. Here is what you need to do to make it happen:
Decide on a date. It allows you to know how long you have to prepare for your ceremony and reception. It also gives your guests an idea as to which days to take off from work or to arrange for travel to your home.
Prepare your guest list. Decide how big or small you want your celebration to be. Write down all of the people you'd like to invite, so you know what to expect when ordering invites, favors, and food.
Send out your invitations. Get your invites in the mail as early as possible so you can have a headcount early on. You don't want to order too much food.
Hire wedding staff to assist you. If a company is available to assist you, use their services. They'll appreciate the business and make your life simpler and easier.
Prepare the property for guests. Do whatever it takes to get the property into presentable shape for others to see. Clean and maintain the lawn as well as trim and remove tree branches.
Order party favors and decorations in advance. Make sure to get your order in as early as possible, so you don't have a late shipment ruin your event. Learn about our shipping estimates by submitting your inquiry to us.
Set everything up on your big day. Enlist the assistance of the staff you hired and make things look beautiful for your guests. Then, get yourself ready to walk down the aisle and to give your heart to the person you love the most.
Your wedding can be a direct reflection of your personality and values. You can incorporate your beautiful yard and property into the celebration. If you're fortunate enough to own several acres, you can have as big of the guest list as your state permits you to have at the time of your wedding day.
Place an Order with SG Wedding Favors Just as Soon as You Can
Get your order for invitations in early. That way, you'll have plenty of time to address them and get them mailed before your big day. You want as many people as possible to show up to your intimate backyard wedding. Based on the size of your yard and the number of guests you can reasonably entertain there, you'll want to have extra invitations on hand just in case you need to invite someone last minute.