The people that you choose to stand with you on your wedding day are among the most important cheerleaders you have in your life. They've been with you through the thick and thin of it all, and you can't imagine them not being by your side as you say, "I do!". So you want to thank them for being a part of your special celebration with a gift that makes a great impression.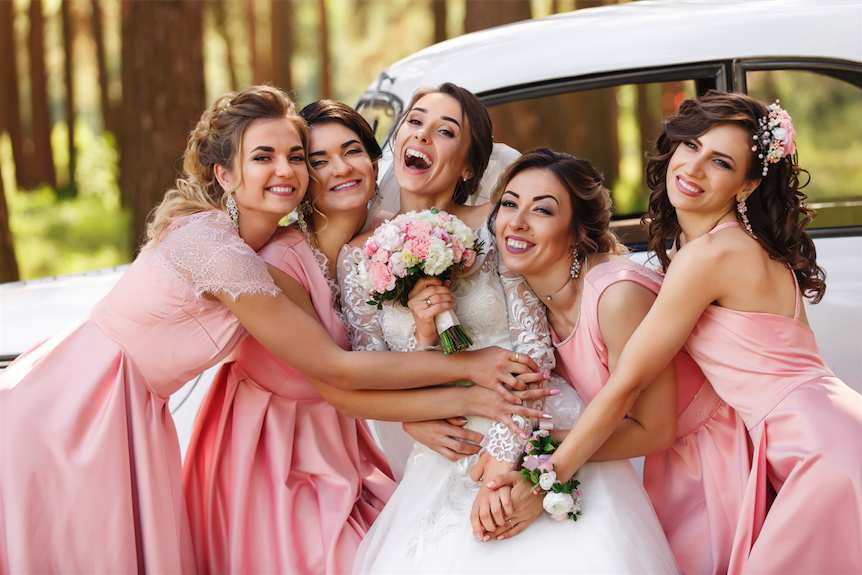 Ideas for Ways to Honor Your Wedding Party Attendants
Selecting gifts based on the individual personalities of your bridesmaids is easy when there is no minimum order for gifts to enforce. You can buy a single item from one category on the site and another item from another category. By the time you've finished shopping, you have a personalized gift to give every one of your bridesmaids.
Here are five creative bridesmaid gifts to give your wedding party:
Bridesmaid Floral Mug. Who doesn't enjoy a hot cup of coffee or tea daily? If your bridesmaids are all about their favorite beverages, give them something memorable to remember your wedding day. Every time they pick up their floral mug, they'll see its message of love from you.
Whimsical Script Tropical Rose Gold Glass Jewelry Box. Showcase a beautiful piece of jewelry that you want to give your bridesmaids with an outstanding jewelry box. It's a safe place to keep their treasured belongings. It can be inscribed with a message from you, making it even more enjoyable and sentimental.
Name Silver Floral Compact Mirror. Give your bridesmaids something they'll use frequently. The mirror that you provide to them has their name inscribed on it. They can carry it in their purses or makeup bags so that they have access to your gift frequently.
Whimsical Shot Glass. If your bridesmaids enjoy adult libations, you can give them a shot glass instead of a mug or wine glass. Having details about your wedding inscribed on the glass can serve as a reminder of the big day for your closest friends. They'll have wonderful memories tied into the gift you give them.
Monogram Card Organizer. Boss bridesmaids never go anywhere without their business cards on them. You can give them a gift that they'll greatly appreciate. A card organizer with its monogram on it is incredibly touching. They'll love pulling out the organizer and being reminded of your friends when they see it.
Your wedding party consists of your closest family and friends. It only makes sense to give them something special to remember the occasion by that day. When selecting bridesmaid gifts to give, note the number of items you need to order, the personalization options available, the cost per item, and the timeframe for the shipment to arrive.
Where to Get Beautiful Bridesmaid Gifts for Your Wedding
SG Wedding Favors is among the best and most versatile suppliers of custom bridesmaid gifts. We ship anywhere in the world. Let us know what we can do to make your experience ordering from us exceptional. We want you to have the most magical experience possible on your wedding day.