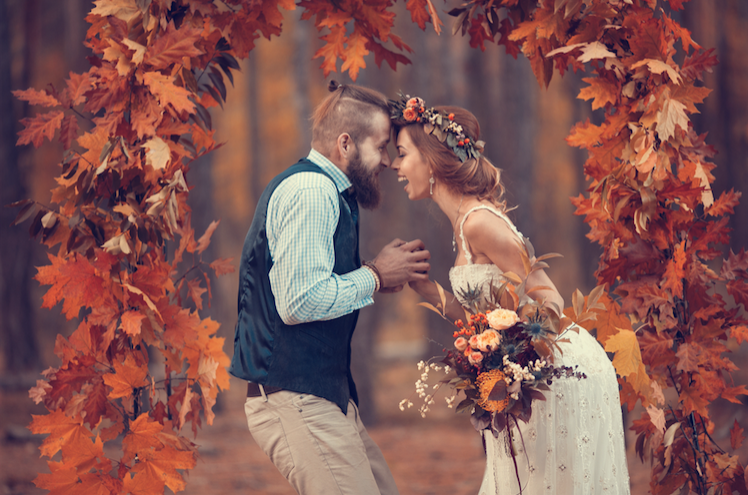 As the months wind down and the evenings get cooler, the traditional wedding season is coming to a close. But, for some, this is when the real fun will begin. An autumn wedding can be a great way to celebrate. It can be a little more elegant and a lot less sweaty, and you can have nature decorating for you, depending on where you will be throwing the party.
While it is not the most popular time to tie the knot, it is certainly not unheard of, and with good reason. There are plenty of reasons to get married in the crisp air and lovely colors of the fall.
While it's not quite winter, and no one will be recommending you wear a white fur cape, the fall can hold a little more drama than a summer wedding because of the accessories that become possible. You can wear a fur stole, or a velvet throw, over your bare shoulders, peeking out from under your dress. And the dress itself can be a lovely fall jewel tones like dark forest green, burnt orange, or a ripe, red burgundy.
Try your look with elbow-length gloves, a long veil, or sparkly stockings. There are a lot of fun accessories that will be more comfortable in the fall.
You will also have a lot less work to do keeping your makeup on your face. Summer weddings usually require a lot of setting spray and powder for the bride and her attendants. Also - think about incorporating some gorgeous foliage or dried flowers into your hair or bouquet arrangements.
A fall wedding, if it takes place in an area with deciduous trees, is already decorated by nature. It can be a good idea to try to catch the warmest, sunniest part of the day for outdoor activities where people will mostly be sitting still, such as the ceremony or toasts.
Look for an area drenched in golden sunshine for that portion, with a view of any forests or clumps of trees around. Raking the leaves into piles can be a cute way to encourage playful behavior from your guests, especially if there are children as guests.
You can use the season as your theme, and employ gold and foliage-toned colors in your decor and table settings. Think about giving fall-themed gifts to your attendants, and leaf-inspired favors to your guests.
Rich, tasty drinks and treats
This is the season of hot ciders, spicy, sweet treats, and roasted meats and root vegetables. You can explore delicious and warming hors d'oeuvres like shots of hot soup to sip on or little beet or potato pancakes. Try to keep hot foods and drinks going around, especially during outdoor events.
Ciders can be served plain, or with bourbon or rum to create a punch or cocktail. In this case, it would be a good idea to serve the mixture already combined. Use cinnamon sticks and balls of nutmeg for both style and flavor. Think about making a table of seasonal pies like apple, pecan, or sweet potato.