Are you having a Valentine's Day wedding this year? What better way to celebrate sweethearts than by sharing your love story with family and friends. Whether you are having a destination wedding or planning a lavish Valentine's Day fête, SG Wedding Favors has the perfect romantic themes, décor, favors, and personalized gifts that will surely leave your guests feeling the love.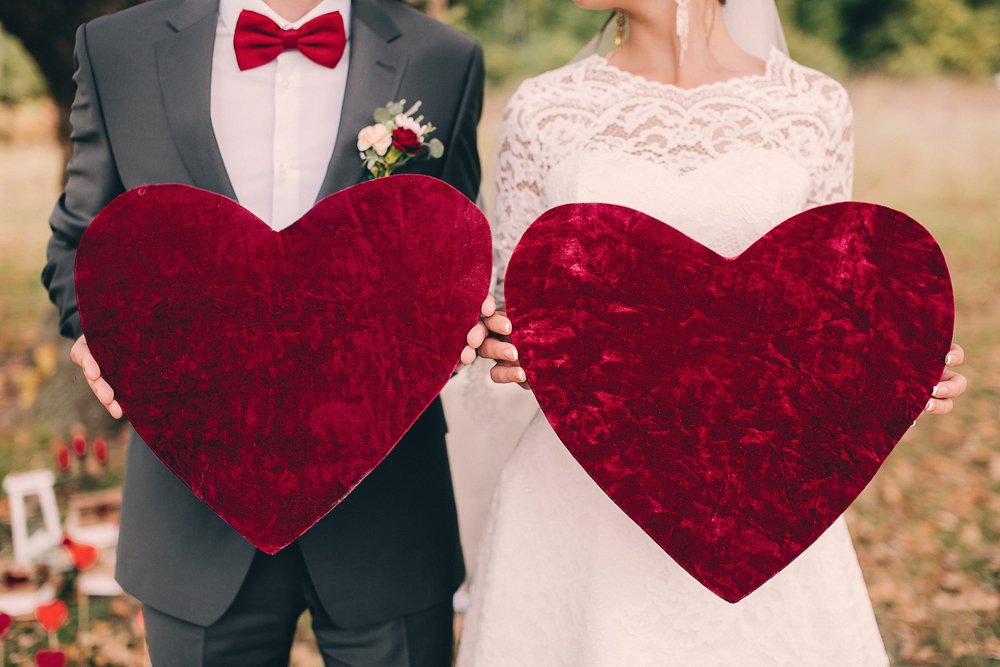 Why Couples Choose A Valentine's Day Theme To Wed
If you are contemplating a Valentine's Day wedding, you most likely desire a romantic event. Some couples are sentimental and choose this date because it has special meaning. From first dates to first kisses, a February wedding is a favorite time to make an engagement official.
Valentine's Color Palettes
Red tones are daring and beautiful color palettes, but there are plenty of other shades, tints, and hues you will want to consider. Try other variations of red, pink, orange, and magenta. Mix in pastels and warm tones to attract your guest's attention and deliver a passionate vibe. Mix in metallic tones or vibrant colored gemstones to your décor and attire to blend in color palettes.
Personalized Invitations
Personalized invitations are the perfect way to get your guests to save the date and get excited about your wedding ceremony. You can choose a simple design that is elegant and chic or a floral décor that symbolizes love. Once you get your invites chosen, deliver them in ornate envelopes that will make your guests smile when they receive their intriguing deliveries.
Attire
Whether you choose an old world style or enchanted fairytale elegance, a couple's attire is a critical part of any Valentine's Day occasion. Choose an intricate design, complement your dress with colorful accents, or add roses to your hair to add a special flare. Connect the bride's style to the groom or groomsmen's tuxedos by choosing red ties or rose boutonnière to suit jackets.
Setting
The location is a critical decision when it comes to February-inspired weddings. Couples have lots of options for a setting as you can choose an extravagant local venue, an over-the-top European castle location, or an intimate beach scene for your event. Add in crystal décor, lots of candles, exotic flowers, and light illumination to create a charming, heartfelt atmosphere.
Flowers
While just about any flowers would add a touch of romance, the most popular flowers on Valentines include alstroemeria, chrysanthemums, daisies, gardenias, hydrangeas, lilies, orchids, peonies, roses, and tulips which are available in just about any color palette and style you desire.
Reception Menu
While style might be the highlight of the wedding, it is the food that will take center stage at the reception. Choose food favorites like beef wellington, steak, or linguine with shrimp scampi or try aphrodisiac finger foods like oysters, maca, almonds, and dark chocolate with a beverage bar.
Wedding Favors
Whether you want a Pretty In Pink inspired favor table or edible gifts for your guests, providing stimulating wedding favors are a long-standing tradition that is worth investing by couples.
Do you have any questions or want to ask for advice from our wedding experts? You can visit our showroom, send an email to enquiries@sgweddingfavors.com, or contact us on Facebook.