When shopping for wedding decorations, there are many things to think about. Availability is a big one, as you don't want to spend time searching for products that aren't currently in stock. Another is price because you have a budget to follow and other expenses to account for currently.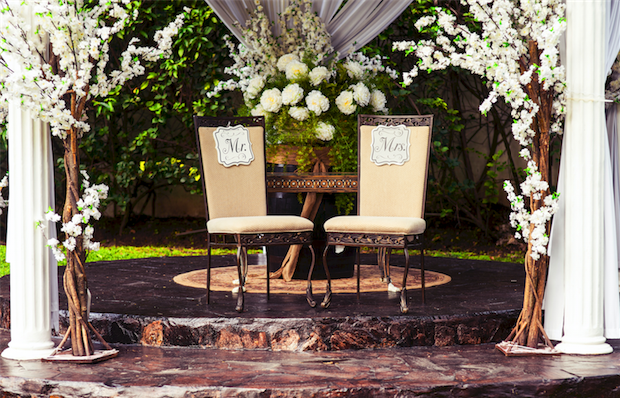 Wedding Décor Types for You to Buy Right Away
You also need to think about the types of wedding décor there is for you to purchase. Which items are necessary? Are there any you can do without?
Décor types are based primarily on their placement. Where you put them spatially is how we categorize them on our website. If you find that you don't need a particular type of decoration, you can skip over it and buy the things that you want to have on hand on your wedding day.
The four types of wedding décor options for your consideration include:
Hanging. These are the items that you'll view from above. They hang down and make for an interesting backdrop for everyone to see. Things such as paper lanterns, chandeliers, and signs fall under this category of decoration.

Table. Decorations that get placed directly on the tables in front of guests are very important. It fills space and can tie into your theme very well. From place card holders to picture frames, there are many creative ways to make the tables exciting to visit and sit at.

Parasols. Similar in shape and appearance to umbrellas, they provide a great deal of shade and can be very pretty for taking pictures under. There are all types of parasols to choose from, with each looking the way you hoped they would be in conjunction with your theme. They can be propped up, held, or even suspended by wire for a unique presentation that everyone loves.

Aisle Runners. Just as you have items that hang from the ceiling, you'll need décor for the floor. Aisle runners create order by allowing people to know where they need to walk throughout the ceremony. They can be used to help your wedding party understand where to stand, too, when having their pictures taken for your celebration.
Confetti and bubbles are also options that you'll want to think about. Relatively inexpensive and easy to disperse throughout a venue, they're the type of décor that is temporary but also a lot of fun to enjoy. You'll find a wide assortment of choices to select from when you visit our website and start adding items to your online shopping cart.
Make SG Wedding Favors Part of Your Personal History
Wedding décor helps tell your story in a way that only you know how to tell it. The items that you pick out can be incredibly beneficial. They not only complement the look of the venue, but they also do their part to tie into your theme.
SG Wedding Favors doesn't only sell wedding gifts and favors. We also offer decorations in various styles, sizes, and price ranges. If you have a question about the availability of an item or need to know more about the delivery process, let us know so we can assist you with your purchase right away.