Dating back to the 17th century, the tradition of giving favors at a wedding has a long history, and offers a chance for the couple to show their appreciation by providing their loved ones with a momento of this very important day.
At SG wedding favors we offer comprehensive search options to take the stress out of at least one of the many decisions you will be making as a new couple.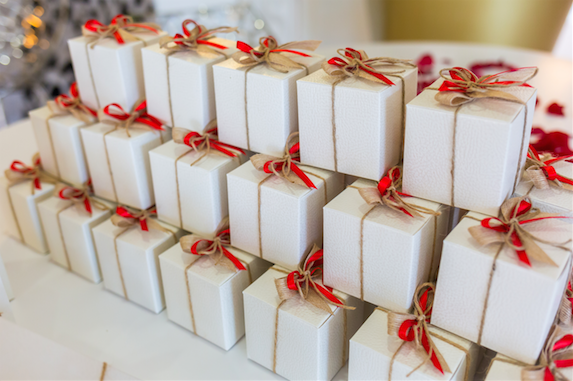 Let's explore some of the different ways you can approach your selection.

Are you going to be taking the plunge at the height of summer? Or maybe you'll be gathering for a Spring celebration. Whatever the time of year, you can browse our site to find a favor that perfectly commemorates the beginning of your new lives. Let's say you are having a winter ceremony, you can remind your guests of the day with a pretty and practical snowflake bookmark. You can really personalize the experience depending on your tastes. For example, charm your guests with these classic, romantic placemarkers for an elegant autumn event. Or get cute and quirky with these salt and pepper shakers that look like little owls.
Favors can also be a way to celebrate the family histories of the couple. Are you bringing worlds together with your partnership? Are you expecting guests from the bride or groom's ancestral home? Shop around in our culture-based collections and find the perfect reminder of both of your traditions coming together. For a wedding with a Chinese flair, send your guests off with this useful chopsticks and spoon set in a bright and vibrant red. This way, they can think of you when they sit down for a meal at home. There is also a range of Indian and Berkat Kahwin-inspired gifts, like these adorable elephant luggage tags, for all those who have traveled far and wide to be a part of your celebration.
Maybe you see the standout of your wedding as the theme you have chosen. It takes a lot to put together a ceremony and party that encapsulates you and your partner's style. Make sure your favors echo all the hard work you have done. Are you getting hitched by the sea or on a boat? Browse through our nautical selections for items your guests will cherish, like this compass-themed wine stopper, which also makes a great gift for groomsmen or bridesmaids. You can also take a look based on material or color. Our Clearly Crystal collection, for one, brings a sparkling elegance to any table. Or get specific by cross matching choices, like this selection of adventure-themed and blue gift options.
The whole point is to express yourself and create an extension of your wedding that people can take home. So have fun with it! And see what fits your theme and your personalities. And don't forget that many of our options can be customized with your names or wedding slogan, like these precious little succulent plants or these classic silver photo keychains.