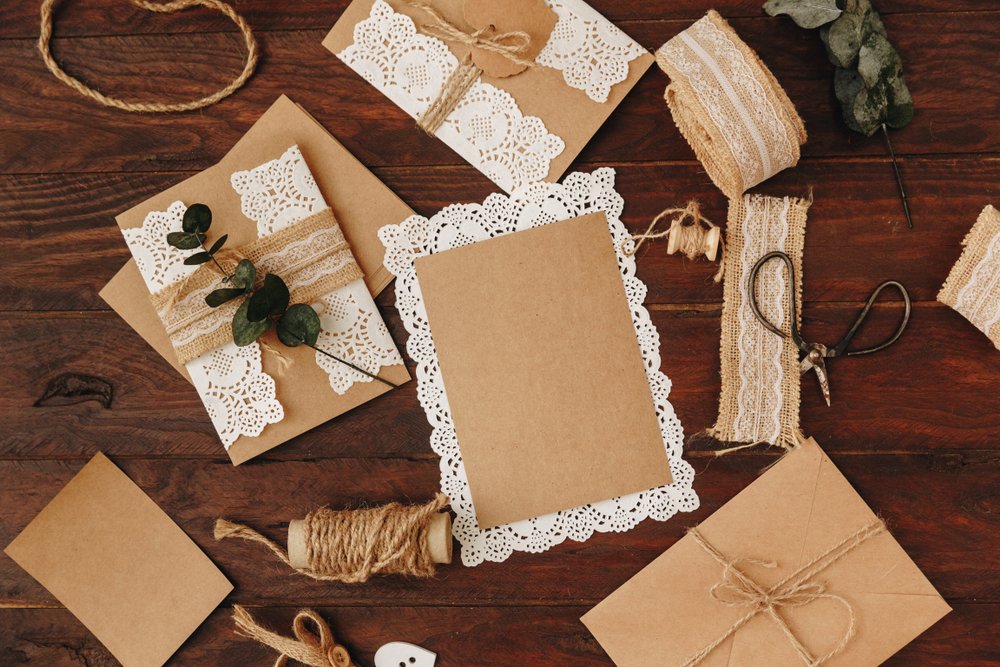 If you are looking for an affordable way to customize your favors, our jute bags will be just the thing to do it. Stenciling on the burlap material will also add a personalized touch which will serve as a keepsake for the occasion. You can fill the bag with treats or small collections which will make it a fun " at the moment" gift idea. Party ideas include:
Personalized Wedding Party Favors
Remember An Important Occasion
Engagement Party Favors With Stenciled Wedding Date Reminder
Baby Shower Favors Or Gender Reveals
Birthday Parties With Stenciled Initials And Date
Materials Needed:
SG Wedding Favor Jutes (Available in Pink, Lavender, Brown, and Lace)
Pre-manufactured Stencils
Acrylic Paint For Crafts
Foam Brushes
Spray Adhesive
Instructions:
Design Creation: You will need to design something to represent the occasion which might include the date, a person's initials, or a short quote. Remember that each bag is 14cm high x 9cm wide, so ensure the design fits accordingly before moving forward.
Create Your Stencil In Word: Download a free stencil font template. Open a new Word document. Insert the stencil and any artwork you want. Print on card stock to ensure it is sturdy enough to cut and paint.
Cut Stencils: Use a hobby knife to cut out stencils and artwork.
Print Extra Stencil Sets: If you are decorating many bags, you will need extra stencils. To save time, create extra sets so you have them when you need them. You will appreciate the time you save now in doing it when working on the original stencil set.
Use Adhesive Spray: When ready to use, spray each stencil with repositionable adhesive spray. It will keep your stencils in place while painting.
Paint: Place the stencil on your jute burlap bag and use the foam brushes to begin painting! Use only a dab of paint to create crisp lettering. You should also paint in an upward motion to produce clean lines.

Be Creative: You can use different colors, sparkles, or design concepts to make your jute creations more interesting. If you have a steady hand and nice handwriting, you can also freely paint and write on each jute.
Remove The Stencils To Let Dry: You have finished the first one, so repeat as many times as you need to create your DIY party craft project.
If you are unsure of what to put in them, you can add potpourri, candy, or a variety of other party favors that we sell. Need more inspiration? If you want to kick it up a notch, try these ideas.
Add our tea strainer and a few bags of flavored teas.
Include our jams or honey along with individually packaged toasts.
Use each jute to package and protect our personalized coasters.
Add our letter opener with a nice homemade thank-you card.
Have a small book made about the occasion and include our bookmark.
We would love to hear how you used our jute bags on our Facebook page. For whatever the occasion, thank-you for allowing us at SG Wedding Favors to be a part of your special occasion.